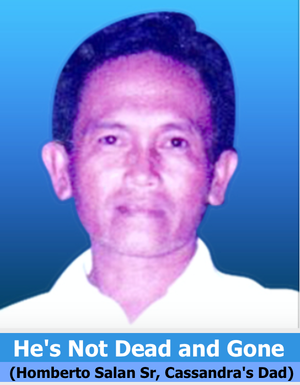 My son and daughter, you have exerted your effort. You were My instrument to bring My Name to your father, and to bring My Name to your family. For it is in My Name that they can be saved. And there's no other name. There's only one name Who can save, and that is the name of Yeshua, Who is YHVH's salvation to every man, woman and child.  
What do people remember, long after the day is gone? This is what you must impress thereupon. And My son, as you have through the gift I've given you presented a song, so again present a song that will remind them that he lives on — he's not dead and gone. But he's with me, and he is with Nanay, and they are with Me. And they are not weeping and mourning! 
There is a time to mourn, a time to cry. Certainly the loss is real. And it's okay to cry, because you miss him. But the memories of his love and his life, and his sacrifice to provide for all of his family — the memory of his hard efforts and work, so many miles walked, miles flown, miles away from the precious ones, so that he could provide for the precious ones of his life — those live on. And he still is pressing on, because through you, his memory lives on. It's your responsibility to let his legacy live for today.  
He's with Me, and he will always be. He knows My Name — Yeshua Who saves — and he did not miss the boat. He is with me, on the other side. 
Proclaim, declare, celebrate his life. Celebrate that he came to Me, when I came to him through your lips, My children. He spoke My name in faith. 
You've done your part. My daughter you've done your part. You were faithful. You made the journey, and you spoke carefully, lovingly, with conviction. You have not hidden My name, nor the truth of My Word. You have been faithful to do what you needed to do. 
And as I have promised — "You shall be saved, and your household."
You spoke with your mother at length on the phone. You reminded her strictly, "There's no other Name to call upon." And she heard, and she knew. And My son, your songs spoke to her, for My Ruach HaKodesh remained, and caused that to be impressed upon her spirit. And so too, both of you, you've been faithful to travel the miles, and do what you needed to. My son, it was not easy to do what you did: to record the song, and have them sing along, and then to edit all this. You went through a task, but because you did, thousands can see, and they know: she's with Me. So too, as you've done your part, exerted your effort, paid the price (and there's still a little price to pay, but it won't be as tasking as it was the first time, but still though important), so My son, commit it, write it, sing it, record it, and declare it: He did not miss the boat. No. He's with me now, My children.
Don't be sad, and don't be afraid, and don't listen to anything that anyone else opposite to this might say. Because he's with me and I've had My way. And this came My children, because you chose to pray. And when you pray, nothing can get in the way. "Thy will be done, heavenly Father, Thy will be done in my father Homberto."  I have heard. I've answered the prayer of faith. I have saved the sick, I have healed their wounded broken spirit, and given life when it counts, where it counts.  
My daughter, through this proclaim My Name. Through this declare your love for your father. Declare the good things. Because when a father is on his deathbed, what he really wants to know, is that he's done what is right for his children — and he knows, because of your faith and proclamation. You have told him. And this is what he would long for for his children. And so be faithful My daughter, to make his memory great, to do your part. It's one part of many, but it's your part, and it's something you cannot escape. If you don't do your part, it won't be done. So do your part to make his memory great. And this will be a statement of not only your faith, but the faith of Homberto, who called upon My Name. And because he did, he is saved.
---
Homberto Salan Sr.
Part 1: Blog: He's With Me (Homberto Salan Sr, Cassandra's dad) Prophecy rcvd: June 19, 2018
Part 2: TunesToTube: He's Not Dead and Gone (Homberto Salan Sr, Cassandra's Dad) Prophecy rcvd: June 20, 2018
Part 3: Video:Testimony of Salvation:They're With You Lord (Mr. Homberto Salan Sr & Mrs. Rosalia Salan) sung June 20, 2018
Part 4: Video: He's With You, Lord (sung live on his funeral service) July 3, 2018
---