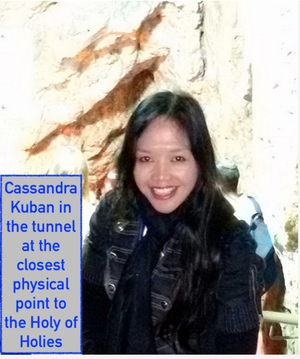 180513 Motherhood 
My daughter it's indeed funny that mothers are the most important element in the human race to actually bring forth life—and yet so few understand that I am more than a mother to all mankind. I am seen in these various manifestations of fatherhood, but yet they don't see my motherhood. Of course I'm a mother. I brought you forth. All of you. When you were being fashioned in your mother's womb, was it not from my will that I brought you? 
The degree of connectedness between a mother and her child is indeed a type. Every flecked of connectedness that I have with you, my child, and all of you, my children. Can a woman forget the child of her womb? Sometimes. Not often. But even that sometimes. But yet I declare that I shall never forget you. 
My daughter. I've given to you a child so that you may know motherhood. Were it not for Ian, how could you possibly understand this dimension of life? You have received life from your mother. And yes, she has been a great blessing to you, and because of what you've learned being a child daughter of hers, that even itself has been a great help to you to understand what it is to have a mom who truly cares for you — sacrifice and unselfishness. 
But my daughter, it's Ian that I gave you, so that you could truly understand the pulse, the very breath and life, the heartbeat of motherhood. And there is much purpose for this, because I have a purpose for him. And that's the cry of your heart: 
 "Oh Lord, bless him, let him grow up and into You. Let him become more like you. Let him use his life for you. This is the fruit of my womb. And as the matriarchs in the Bible have done, so do I unto you. I give him to You. He's Yours, not mine. Ultimately he's Yours, Yours YHVH. So bless him. Grow him, teach him, develop him, strengthen him and sharpen him. And because I'm his mom, I will do everything in my power for him to grow up into You." 
My daughter, this pulse, this heartbeat, this relentless cry of your heart, is indeed a reflection of My heart for all of My children. When you grow up to understand the place and role that I have for you, and why I have directed and guided you in my hand, you will realize My daughter that you're an extension of My motherhood. Because there are lives that I wish to attach in a dimension that is spiritual, but they need the Spirit. They need to hear My voice, not just feel emotions and thoughts that would be naturally Mine. But they need to feel the impulse of the Spirit, because that is how the Holy Spirit broods over His children. Indeed, some have said the Triune God, Father, Son and Mother, as a hen broods over young, so I brood over Mine. 
You're going to learn how the things you do with your hands are going to bring My presence, My anointing, and My healing. And it will be in the capacity that My heart cries over My children as a mother, you're going to realize that your gifts are indeed to be used by Me, by My holy Breath, My Ruach Hakodesh – to be you must to touch their, even as My mother's heart longs to touch and teach and develop them. You're going to understand that when My son sings and the anointing comes forth, it's through the Ruach of motherhood that I want to touch them. And My children will hear me through his lips  — because it's not him who sings (he's but My instrument), but it's Me Who sings in the Spirit. I blow upon them. For I am the Ruach of Elohim. 
My daughter grow. Come here. You will see this as you begin to understand and see the manifestation of my plan being worked out through this. And you will see *my gifts, my gifts to my children. Because you have come into motherhood. You're going to learn what it is to be a spiritual mother to My children in faraway places. People and children of mine that you have never yet met or seen with your own eyes, you're going to feel My heart for them, and you're going to understand that through this music they're going to hear Me, they're going to feel Me, they're going to sense My care and My provision, My protection and My grace to bind up their wounds. 
As a mother binds up her child's broken heart, scraped knee, and broken toys, so My daughter will you understand this is what I want to do for each of them, My girls and my boys. I want to see them grow up into adulthood even more than you want to see Ian grow up into adulthood. 
You know this is going to take on a new dimension My daughter, because the more that you send forth the words and the music, the more you will understand it's the Ruach Hakodesh – indeed the "Spirit of Motherhood" that goes forth to them, and it's Me longing to reach them. Yeshua said, "The Spirit, the Ruach of YHVH is upon Me, for He has anointed Me." You're going to understand you're anointed my daughter, in the same capacity and dimension as your husband. Even as the disciples, even as the apostles, even as the authors of My Word and my Psalms and Proverbs. Yes Lemuel knew this is what a blessed woman is, a blessed mother of Israel (Proverbs 31). And so prepare for this. 
Your way to see your hands, is an extension of My holy breath, My Ruach reaching out through the lens, through the silence, to the songs, and through the words that you post. You're to see hurting ones. You can understand My compassion for them. And as it is said, "How can they hear, if no one is sent to them?" My daughter, how lovely are your feet, because you are a sent one. 
If you don't post that, they won't hear. You may not know what your postings will do. You may not know, and people won't be seeing you. If anything, they will be seeing your husband, but with if and went*. 
And each time he is hidden in me under the anointing of the Spirit, it's Me that they will see in him. You've seen the transformation that comes. One moment he's your husband standing on the stage. Ah yes, you know him as nobody else does. But then you see him transformed and he becomes My instrument, the instrument of Yah. You're going to be like that. You're going to see and recognize that it's not you, but it's Me in you. And you're My instrument to deliver My Word, to bind up the brokenhearted, to give sight to the blind, to set at liberty those who are bound by Satan's torments and by their own problems. You will be My instrument to set them free, My daughter, because you will be in the Ruach Hakodesh – His blessing. 
Don't worry, I keep perfect score. People will say,"Oh Steve, thank you, send more." And you will not be worried because they're not seeing you. Because you know that if you're faithful to do what I call you to, I keep perfect score, and the blessing and reward will also be yours.