Today marks the 8th anniversary of the death of my mother-in-law Rosalia Salan. My wife and I received the sad news by phone from her brothers and sisters in the Philippines, while at our home in New York. Cassandra was broken and distraught. Her mom's death came as a surprise, for she had gone into the hospital with pain in her shoulder, not with any condition that should have led to her death.
Cassandra had told her mom about Christ on the phone many times over the years. But for several months prior to the end of Rosalia's life, Cassandra had a special burden and talked with her mom at length about the saving power of Yeshua. Her mom finally made the decision to put all her trust in the Lord, and Cassandra had the joy and privilege of leading her mom to the Lord over the phone just a few weeks before she breathed her last, and graduated to heaven!  The Bible says, "Believe on the Lord Jesus Christ (Yeshua the Messiah) and you shall be saved, and your household." (Acts 16:31). Praise the Lord! Cassandra had witnessed the fulfillment of God's promise, with her own mom!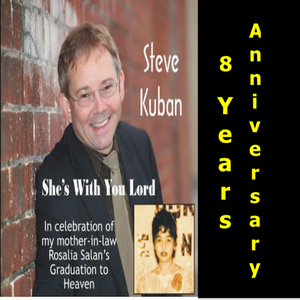 But understandably, Cassandra was feeling very sad upon hearing this news. And in her heart, she really was asking the Lord, "Is my mom with you, Lord?"
We went to the living room, and Cassandra fell to her knees and began weeping deeply. She had not seen her mom in eight years, and the pain of not being able to now see her in this lifetime bore heavy upon her heart.  
I felt in my spirit a very strong leading from the Lord to go to my musical keyboard and begin playing and worshiping the Lord. Normally a time like this would not be one where a camera should be recording, but I felt a very strong urging from the Lord to set up in the dimly-lit living room not one, but two cameras, in two places. I'm so glad I obeyed.
As I began playing the keyboard, suddenly I saw a vision of a woman dressed in white beside Jesus (Yeshua), and instantly I knew this was Cassandra's mom, Rosalia Salan. I began to sing what I saw, beginning with "She's in Your hands now Lord, she's in Your presence. We are thankful for what You've done. She's with You Lord, with You Lord, in Heaven above. Where the pain is gone and the anguish of her soul, is replaced with a joyful song. She's Your daughter, she's Your child, and now she's home." 
The vision began to be more intense, and soon she was dancing with Yeshua, and the rain of the Holy Spirit was falling all around her. 
For ten minutes I played and sang what I saw in the vision, and out came such a beautiful song of reassurance. I entitled it, "She's With You Lord." It was a total confirmation that Rosalia was indeed right that very moment with the Lord Yeshua Himself, in Heaven! 
After much worship and weeping, we ended the night and went to sleep. In the morning we replayed the video, and it was VERY powerful. I knew the Lord wanted me to add the words of the vision He'd given to the video, which was the complete text of the entire ten minute song, and send it to Cassandra's family in the Philippines. I requested Cassandra's brother to email a few photos of Rosalia, to add to the video, and when I received the photos he sent, one photo in particular struck me powerfully of a young Rosalia Salan about 20 years old, dressed in a beauty pageant gown – for the woman in the photo was exactly the woman I had seen in the vision dancing with Jesus(Yeshua)! And I had never before seen a photo of Rosalia Salan as a young woman.
The video you are about to watch, is the vision God gave me of Rosalia Salan dancing with Yeshua in heaven, which I sang and played that night.
Here are seven parts of this amazing story, on video and audio. The final part #8, is text and audio of what the Lord spoke to us this morning, about the importance of being a witness with our lives, speaking in particular about the witness of Rosalia's life. We pray you will be blessed by each of these episodes that came during and after the day of her graduation to heaven. Shalom.
---
She's With You Lord – by Steve Kuban
Part 1: Video: Original version of the song being birthed 1 of 4 Videos
Part 2: Video: Introduction 2 of 4 Videos
Part 3: Video: Commemorative version (3rd anniversary) 3 of 4 Videos
Part 4: Pro Audio: She's With You Lord
Part 5: Itunes: She's With You Lord
Part 6: Video: I'm Calling Out To You (sung with the Salan's family, in Philippines) 4 of 4 Videos
Part 7: Pro Audio: During her funeral, the song being birthed "I'm Calling Out To You"
Part 8: Blog: Rosalia's With You Lord – in Heaven (8th Anniversary, "She's With You Lord" (Prophecy)
---
This is what the Lord spoke to us early this morning: 
My daughter, on this date, eight years ago, your mother came to me. That was the end of her story, as she breathed her last to come to me. There was no more that she could do. And that's the same for every single one of you. When you breathe your last, there is no more that you can do. So therefore you have to do well your time on earth.   
But my daughter, her story was carried on by you. And my son, her story was carried on by you. Her story continues, her songs continue, to teach her "life witness." I brought her to me, and you sang "She's With You Lord." And not only for your ears, and not only my daughter for your ears (for you were in a place to cry out, wondering, "Lord I need to know:  Is she with you?"). So this ministered to you and taught you.   
My son, the song is not just for her, and it's not just for you. But it was for her family. Because her witness shall carry on. This which took place, as you set up the camera to capture whatever God might give you that night in the living room...that's my hand: to carry on the witness of Rosalia Salan.  
She did her part. My daughter she did to you impart what it was of her life into you, even though you left at a young age. But it came back full circle. Because I brought you to my Kingdom. And as the jailer cried out, "what must I do to be saved?" "Believe on the Lord Yeshua the Messiah and you will be saved, and your household." And because of you my daughter, she was able to come to me, because of your witness.   
You were to her a very strong testimony. She marveled at how God took one daughter, one child of hers, on a completely different journey. And your trajectory took you to places that she could only wonder and imagine, and yet you were there. My daughter, you were her pride and joy. As you were also to your father, who is also with me, because he believed. And you my daughter were the agent of salvation to bring the good news to Homberto. He did not miss the boat.  
Now my children, this is a very important chapter in the story, that you can play and testify and share, through your writings and through the music. You have the story. You have the witness. And my son, you have on video the inspiration! "She's with me!" It came forth out of your lips, as you were obedient to the heavenly vision to play and sing what I had shown you.   
"She's dancing with you, Yeshua. She's dancing with you. You're holding her tight, giving her sight that she never knew." These are the witness of the Spirit — the confidence and the encouragement. Because everyone wonders, "Where will I go when I die?" Yeshua is the first one who came back from the other side. And he said it's a great place! "I've gone there, and I shall go there to prepare you your place. And I shall come again, for certain, and bring you with me, so that you too can be with Yeshua."  
What a story! What a witness! People are longing for the assurance of their salvation. And this song is a very strong witness. How it came about. And you have the evidence of it. You can bring them step-by-step on a journey of witness. And my daughter through this your mother's witness carries on, long after she's gone from this earth. And that's how it should be for all of my children. That your life has been a witness.  
As you get older your past becomes your story, and it should not be hidden from view. Every day many many of my children die, they come to me. But left in the attic or in some box hidden away or someplace that no one left on earth even knows about, are their "remains"— the stories of their life; the music they wrote; the things they did that were a good witness. And when they see the glories of heaven, and they meet me, one of the things that they say in their heart is, "O Lord! All that you gave me! Oh, can I not somehow touch them, back there, to open up that box and read the stories, and see the pictures, and hear the songs? Please Lord can you send someone? Touch someone?"  
But often, it's gone. Someone comes along — (a relative who has to "clean up sister's mess"). And he doesn't know ... and he doesn't care less. And he throws it out. The witness.  
Yes there are some things in heaven that you'll wish you could have done differently while you were on earth. And if only you could get that message NOW, in your heart, before you leave. You would then work hard to get your task done.   
Yeshua said, "It is finished! I have done everything Father that you sent me to do. And now, into thy hands I commit my spirit."  
Yeshua was not undone. He finished the work for which he had come. And he gave the Ruach Ha Kodesh – blew upon them with tongues of fire on the day of Shavuot, and the body of Messiah was born on earth, the spiritual entity that would then carry on his work.  
My daughter, your mother's witness can again be her testimony through you. Because this is an amazing witness that is supernatural you have all of the names of your family on both sides who came for Tatay's funeral they did a good job to organize the family trees and you have a very important place my daughter. You can be a connected witness to these you can bring to them the song, "She's With You." She's with you heart you can bring to them a witness of your life and how you have given your all to the Lord, you can be a witness of one who went away to find her dreams. Her fame and her fortune and she found the pearl of great price and she lives in America the land of promise it will stir them. It will give them hope it will cause them to say I want to be like Hilda and Cassandra. I want to live in such a way where I give God the opportunity to do something big with my life as you've done in hers my daughter. You and your family shall be saved. You've been strong and you've witnessed and you've done so in the death of your mother and father. You have declared to them in the time that you visited them. This is the will and the word of YHVH. You have brought to them strength, comfort, direction they have not forgotten you have the authority, as did the apostles who knew me and walked with me. This was what gave them the authority we knew him way walked with. We were his disciples, my daughter. Tell them you have the authority for you know me you walk with me and you are my witness to bring your mother's witness and your father's witness to them and to bring your life's witness and these things will cause even the young ones who look up to you. It will bring them to salvation. Hide not yourself you have the accreditation's both of you, my children I'm excited for you, but I'm also aware that the enemy will try to hinder you. He will use everything possible. My son I remove it if you let me and I will prepare you for the removal thereof so that when it happens you won't be disappointed but rather you will rejoice and say, "The will of YHVH be done."   
My daughter. I'm going to prepare you, I will speak to your spirit. I will set your heart at a place where you will be ready. And when it takes place you will rejoice and say, "Yes YHVH You've done another one." And the things that you've had to let go, you will let them go joyfully because you will know that like a boat that has to take the rope and unmoor it from the pier, you have to do it in order to get on your way to fulfill your calling. And my daughter, there's times when the rope has kept you tied your the boat the peer is all those things of the past. You have to untie the rope and you have to cast off restraint so that you can get on with this work and the two of you are in this boat together and everyone sees that you're together and everyone rejoices that you're together because you are a man of your word. My son and you are a woman of worth my daughter who is obedient to the call to stand together with this your husband to fulfill God's will to take worship to the nations, and it will be a beautiful sending off.  
---
IAN   
And my daughter. I've anchored you here in Orlando with [your son] Ian. You are imparting into him the things, the threads, the ropes that ties, the intrinsic connections that will keep him on the path for me. Your faithfulness, your tenacity . . . . He hears you reading the Bible day after day. He knows you are serious about the Lord your God. Don't worry if he says things that may mock you or taunt you, that's just what his independent mind wants to do. But your steadfastness has been a thread, a rope through his heart, of connectedness with you, and with the Lord your God. It's really important that you've been here for him. He may say to you, "But why? Because of the lack, the need, we don't have money coming in." Don't worry about that. He knows that you are here because I've told you to help him. And he is grateful. He may not say it very often, but he will say it more often as the truth of this sinks in. He's going to look back my daughter years from now, and is going to see that both of you paid a price to bring him to this school, to bring him to this place, to live here with him, to help him find his feet and then begin to run his race. Let not your heart be troubled about any of these things. He'll be ungrateful, but at other times he will hug you and embrace. This is the true heart of Ian my daughter, and because you've been faithful and you believed in me, salvation will come to your household, and certainly this includes Ian. I will use him as a witness, and your witness will live in him. The book is even being written right now. So take out pen, take out paper, jot down the things that come into your heart. Because this is his story. But it's really your story through him, and his story that will come through you. Write out his story. Because he's a part of you.   
---
Certainly this is a day to bear witness and bring testimony of the Lord your God who gave you this song: "She's With You Lord." Be certain to put it out, make it available, and send it personally through Messenger to all of those who are your friends, Cassandra, that they might know from your heart the witness of your mom, and the witness of you, and how your witness brought her to the saving faith of Yeshua. You can put this as one entry in Facebook, that you can then send to all your friends on this special day to honor your mother.   
My son you can do the same together with your wife on your Facebook page. Together let this be a declaration of the witness of YHVH your God to bring my daughter into my kingdom and to bring my song of reassurance as a witness to the nations. Bring forth and put it on your website. Bring forth and send it. Let this be an opportunity to give a good witness, because that's what it is. After all, Yeshua said, "You shall be my witnesses in Jerusalem, in Judea, Samaria, and to the uttermost parts of the world.   
How exciting is that, my daughter, that you can send this song, and your witness all around to friends in parts of the world that are so far away from you, and they can see it immediately and hear it, and read the words. They can hear the tears. Remember you're to present a story. This is not just a song, but this is a progressive story of what happened to you, what happened to your mom, how you helped her to find her way home, and how I gave the assurance even though you couldn't be at the funeral yet was there such a clear witness.   
Now my son just remember how faithful I have been. After all, without me, you'd be undone, but because I'm in you, and because you've taken out by faith your keyboard, and set up your camera, and your recorder, out comes the song. Because you are faithful my son, and every time you sit down at the keyboard I bring forth songs, some old, some new, some prophetic, some from you. But all of them as a witness that I am working in you. 

My son don't hesitate. Go ahead, take the plunge and let the world see the witness of your wife, and let the world know how I've used you.  

Let this witness be complete. Steve Kuban, Cassandra  Salan Kuban. This is your witness.  

This is my word to you, my children today on this special day, February 26, 2019